This video is about ZAP IT® Glue that bonds at the Speed of Light!
Zap It Glue bonds on command. Need an instant 5 second bond? Zap It with the included light. Need time to reposition your piece? No problem – arrange and rearrange your pieces until they are right, then Zap It and be done, or wait 1 -2 minutes and the glue will cure without the light.
Zap It Glue works on virtually everything and has a no-odor formula. Dust will not stick to cured surface.
Fill wood and metal
Decorate shoes and purses
Bond on stones and crystals
Repair and reinforce split electronic cables
Bond and seal wood to wood, tile to tile, and more!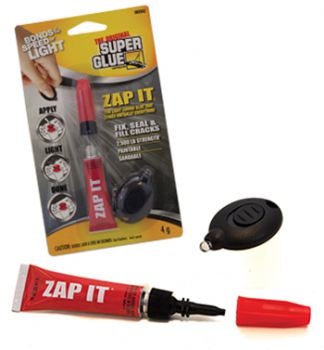 How to Use
Apply sparingly (one drop per square inch) to one surface only. Press pieces together. Use provided LED light to cure exposed glue.
CAUTION: Bonds skin and eyes in seconds. Use caution and read product instructions before using. Point tube away from face and body. Do not squeeze tube while puncturing.
Do not expose product to UV or artificial light in storage to prevent curing. Protect clothing and work surfaces with aluminum foil.