Take your business digital – with B9Creations 3D Printer 530 & 550 models:
How long does it take to produce a piece of jewellery by hand? Are you turning some jobs away? Do you want to deliver stock to your customers instantly?
How many days can be saved instead of shipping to casting houses if you were to print models in-house within 15 to 45 minutes?
Close a sale in 45 minutes. Grow a small jewellery business to a medium size enterprise with a digital workflow solution.
B9Creations is different from other printers, why? B9Creations are pioneers in the jewellery industry, leaders in speed, simplicity & long term asset value. Cape Tools offer a detailed consultation before you invest capital. Many of B9Creations customers are second time buyers of 3D Printers after buying a cheaper priced printer which realised high cost of ownership and maintenance, premium priced consumable inputs and expensive licensing fees.
Request a sample print from us in-store to check first hand the detailed quality, before casting the article to gauge and feel the value add that B9Creations 3D printing technology achieves. Our sales team have received ex-factory training and hands on to advise you, perform free demonstrations at our showroom and answer your questions to assure you have selected the correct printer for your business with confidence.
Below findings are based on production of 20 rings per week and attributing $ 20 per hour of labor.
B9Creations built the sales model around a philosophy that increased productivity reduces the cost of ownership the more you print. The B9C is the highest quality printer and sold at a premium cost to its competitors. This outlay reduces with ownership as every press of the print button results in an increased savings of the print cost of B9 which is well below that of its competitors print cost.
B9Creations uses DLP (Digital Light Projection) technology instead of Laser based technology. Print detail is consistently sharp, producing superior casting results. Secondary finishing time by hand is virtually eliminated which cheaper 3D printers can not deliver both detail and finish. Less finishing time by hand is a further intangible saving when inputs are costed at US$ 20 per hour.
Laser based technology loses detail progressively as the distance increases away from the center of the model. A torch shining against a wall from 2cm distance (DLP) is compared to shining the same torch 10cm away from the wall (Laser) The Laser method, as its light source is projected further away from the wall, spreads and disperses losing detail as the light fades towards the circumference of the circle of light.
DLP method renders crisp focused consistent detail throughout the entire build volume, even the outer edge. The same detail will be lost in jewelry articles using cheaper technology printers which should be limited to basic plain bands and simple detail. DLP caters for filigree, pavé settings, thin walls and intricate detail.
Competition printers retail as low as one 1/3rd of B9Creations price tag. No annual servicing fees ($500 up to $ 2,000) inexpensive and quality consumables, low maintenance inputs. Over the term B9 Creations becomes the more valuable asset as it continues to run cheaper by the print and the more you print the more the savings are clawed back .
B9C annual operating overheads @ $ 0.06c to 0.12c per ring (volume dependent) based on resin usage, efficient Dura-Vat replacement, quick print times. B9 Creations offers lifetime software upgrades, no annual licence fees and no software fees and free support.
B9Creations Dura-Vat delivers greater output, cheaper by 16% in $ terms. B9 Creations researched a patented micro-film layer which requires no re-coating which prevents cloudiness. This has a saving effect on consumable materials and eliminates frustrating trouble shooting and time when re-prints are required.
Print time is 25 % shorter (15 to 45 minutes @ 20 US$ per hour labor). CAD design faults can be identified early.
Resin models are durable compared to wax prototypes that can damage easily, resin models can be presented to the customer to be worn in 15 minutes without damaging the model.
Statistical research by B9C in the US market showed an increase in turnover post digital shift.
Additional Information:
B9Creations 550 model is suitable for larger scale and works on a larger build table. Bracelets and necklaces
B9Creations 530 model delivers detailed resolution and thin walls and small holes smooth surface finish
Your installation and training is undertaken by Cape Tools and is included in the cost. We undergo regular training with B9Creations directly. Cape Tools offer after sales support & service in house by our technical trained professionals until six months where after online support continues for training, breakdown and troubleshooting.
No annual software licence fee. Duravat covers 600 prints* Competitor Vats cover 20-100 prints. B9Creations supply 2 Dura-Vats free in your initial printer order.
B9Creations customers benefit from quality in casting finishes, greater detail in resolution and less consumable costs and labour costs spent on final finishing time off its prints.
3D Printing Made Easy with great benefits: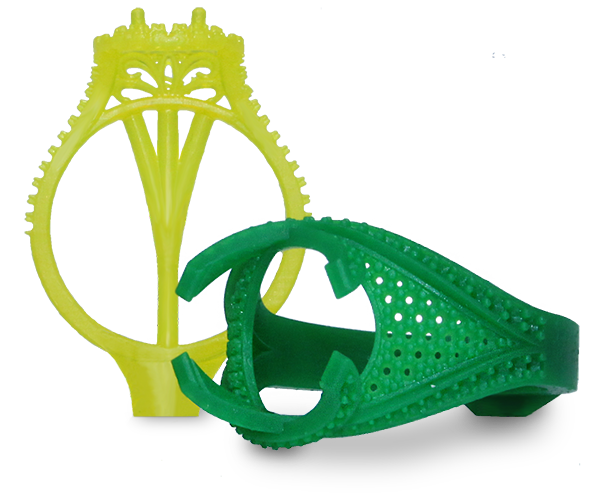 Developed with  jewellers  in  mind,  the  core  series  prints  rings  in  45  minutes or 15 minutes for a prototype which saves cost inputs if CAD design errors occur.  At speeds 4x  faster than  industry  average,  that  means  less  time  at  the   bench  and  more  time  where  it  matters  –  growing  your  business.  Our user-friendly interface, no software fees or calibration makes it the perfect fit for 3D printing beginners and experts alike. R&D evolved around the jewelry industry before B9Creations assembled the first 3D Printer, we pride ourselves as industry experts. Resin casting technology is taking over.
Deliver stunning resolution
With 3D  printers  offering  30  and  50  micron  resolution  (a  third  the  width  of  a  human  hair!),  the  core  series  produces  a  smoother,  precise  surface  without  losing  detail  like  pavé,  micro  prongs,  and  intricate  filigree.  our  materials  enable  jewellers  to  quickly  produce  flawless  prints  and  move  directly  to  metal  casting  with  perfect  results.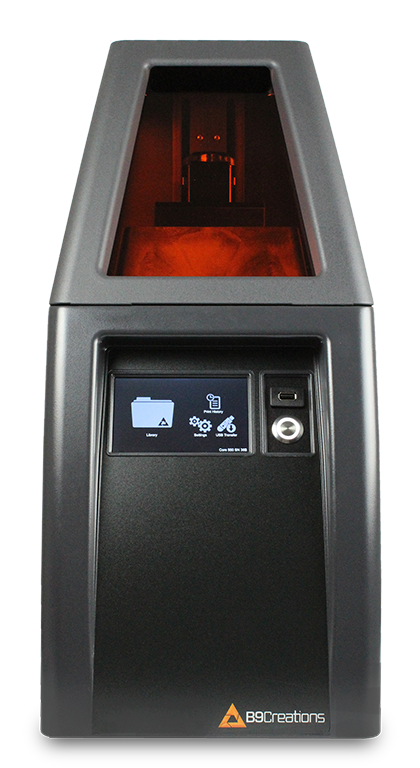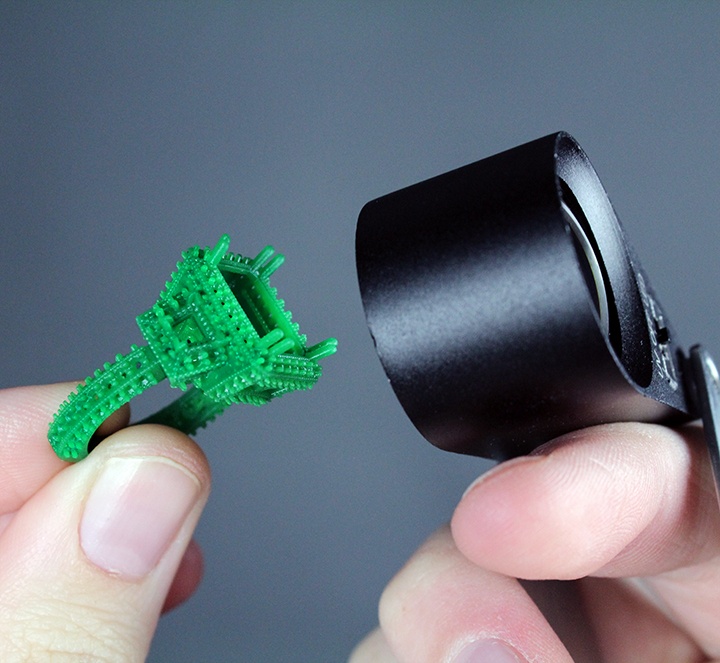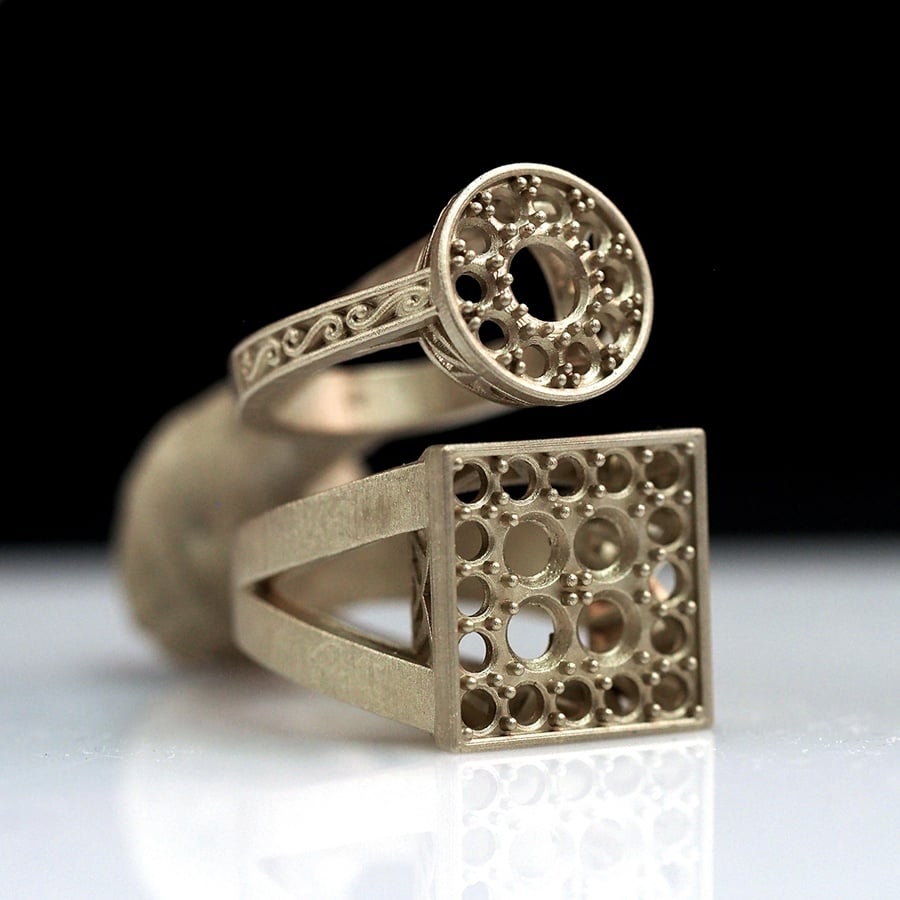 Cast  with  confidence 
Casting  resins  offer  superior resolution  using  our  jeweller-approved  burnout  schedule  produces  repeatable,  flawless  casting  results  in  silver,  gold,  platinum,  and  more.  Use  the  B9  resin  line  for  creating  rubber  moulds,  direct  casting,  and  mass  production  of  your  designs. Burnout is ash free, detail is maximized using the B530 (30 micron)
Enhance  your  customer  experience
Bring  designs  to  life  over  lunch  not  overnight,  directly  communicating  on  design  details  and  fit  for  ultimate  customer  satisfaction.
The B9C Core Series uses an integrated system combined with a new user interface to optimize your printing experience with a Touchscreen and improved software. Wifi, Ethernet and USB connectivity. B9 have eliminated the complexities of calibrations and tuning so you can spend more time designing & creating. Built-in fume & odour filtration with a new DuraVat.
RESINS
Green – High clean detail investment casting easier to see detail due to colour pigment contrast also casts in platinum  $ 195 *
Black – Fast printing design verification $ 210 *
Yellow – High detail investment, fastest printing castable resin giving absolute crisp detail and clean burnout casts directly in platinum $ 210 *
Gray – Durable rapid printing design verification $ 195 *
per kilo approximated plus shipping. Prices will be quoted at time of purchase * based on exchange rate* of stocked resins listed under their product code.


NEW! B9 Clean: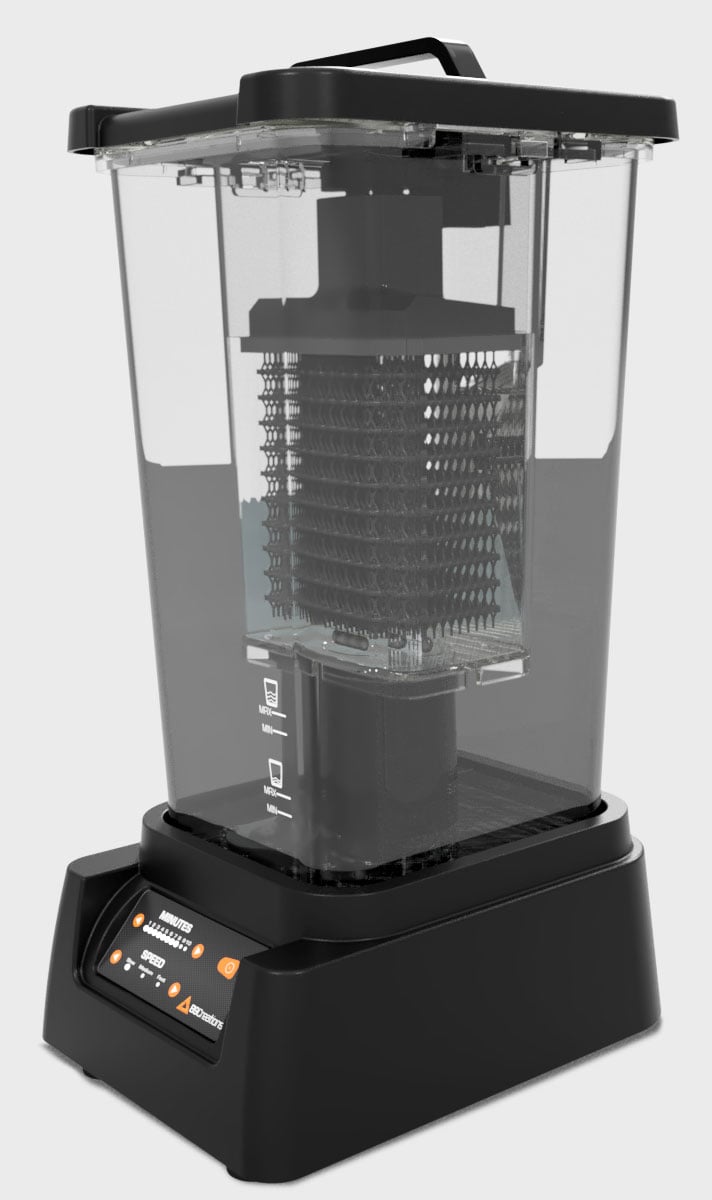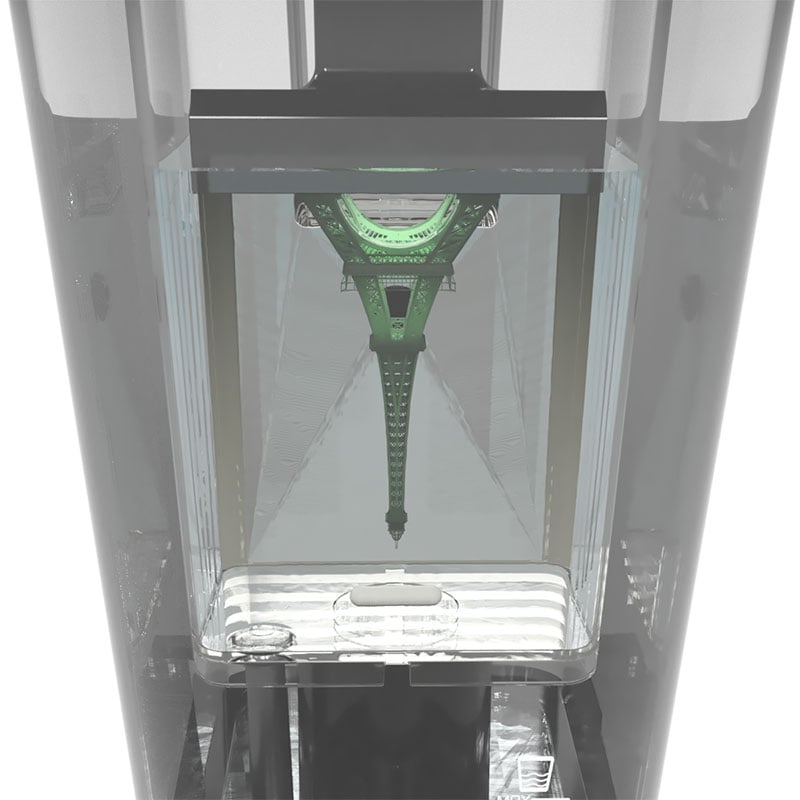 The digital workflow that lives up to its name.
Your push-button operation shouldn't stop at the printer. Automate your post-processing with thorough, no-mess cleaning. Parts can be transferred directly from B9 Core Series 3D printers to the B9Clean while still on the build platform or as loose models on the part tray.
0 Touch Points – Before your part is printed, clean, and dry
10 Minutes – Approximate clean time with fresh isopropyl alcohol (IPA)
1.3 Liters – IPA volume for wash bucket Uses 75% less cleaning solution than other wash units, holds up to 2 liters for larger parts
50 Uses – Amount of uses per IPA refill in regular use